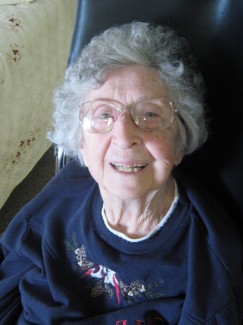 Jamie and I went down to Joliet to visit Grandma Blair this evening, my last surviving grandparent.  She's my mom's mom.  Grandma has had Alzheimer's for many years now, living with my family for probably almost 10 years or so and a little over a month ago she had declined to the point where she was becoming a little too much for my parents to handle.  A tough decision I know for my family, but they decided to enter her into a facility that specializes in Alzheimer's care and tonight was Jamie and I's first chance to go visit her there.
While we both had fun and was great to see Grandma, at the same time it was somewhat sad to see her declining as she is.  It was not that long ago that we could joke with her and have a fun time, and she would be right there laughing with us and many times being the life of the party.  🙂  Several videos on my Youtube illustrate that well.  For many years she has been able to recite the first 20 or 30 Presidents of the United States in order. Today she had a hard time naming the first 3.  We all knew in the back of our minds that these days would be coming, just hard to swallow that they are here.  I'm sure its hard for my mom especially, but it was difficult to see her stumbling over her words and having a hard time just communicating.  Nevertheless, she still loves to laugh and has that spirit in her that is always smiling, and you can't help but have a smile too when you're with her.
Find this useful? Take just a moment and give a $1. Thanks!