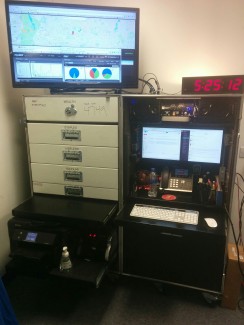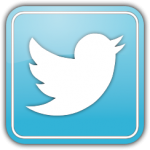 Tweet
After years on the road, I finally built a production office road case design that I have fallen in love with.  Some have asked me for the schematics and details of how to reproduce it, so here it is and my thought process behind it.  If you end up building one similar or a derivative, post a pic!
Size
Closed – Half pack by quarter pack by 58″h (short enough to fly without having to be tipped *fingers crossed they don't actually tip it – hasn't happened yet!*)
Features
2 minute setup – open up clamshell, plug in power, sit down and begin working.
Mac Mini, VoIP phone, Printer/Scanner, Cash Counting Machine all stored in the case.
Electronics cavity for power, wiring, and components located behind the monitor, accessible by a door on the outside of case.
Gigabit networking with POE switches, 3-4 ports on each side with additional ports on top, built in WiFi access point
White Board paint on drawer faces (orientated for a left handed person! I use this every day and LOVE it!)
Cork Board on right side of Workspace Area
Top left is a combo/key lock area for sensitive materials
LED lighting – both up/room/accent lighting on top of the case and down lighting for the workspace
Synology network hard drive for NAS and TimeMachine backups
HDMI output on top for dashboard/statusboard TV (typically second monitor of Mac Mini – shows current GPS positions of runners, weather, digital day sheet, network activity and monitoring of tour wifi/access points), HDMI switcher receives secondary monitor output of Mac Mini, SDI feed from stage/multiviewer, Chromecast, AppleTV
Courtesy outlet on left workspace tray for laptops, soldering iron, etc.
USB charger with courtesy phone cables for a quick charge for anyone passing by
IP based time clock – synced with internet time server for accurate, reliable clock
Super deep drawer under workstation area for fan, paper cutter, cables, etc – things typically accessed at start/end of day or rarely throughout.
Photos
Components
Design
The SketchUp file and design was created by me, but lots of thanks to all of my touring friends who provided key insight and ideas along the way.
Download the Google SketchUp File – Drawer sizes differ from actual build, but concepts and rough dimensions are there.
Built in 2014
Since I live in Indianapolis, I decided to give a local company the business – Indy Case.  After making it incorrect the first time around, the second build was perfect and right on par.  They were great to work with and resolved my issues with the incorrect sizing – would use them again!
Find this useful? Take just a moment and give a $1. Thanks!