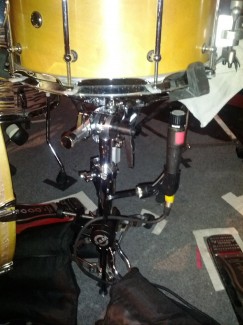 Recently while on tour, many house engineers commented on my snare bottom mic technique, so I figured I would share a quick post on what I'm using.
A year or two back, I came across the $50 K&M 240/5 mic clamp while looking for a way to attach a mic to a piece of truss.  It basically is a 2 mic clamp that can tighten down to any round or flat surface.  When thinking through my mic stand needs for the tour, I pulled out this clamp to affix it directly to the center post of the snare hardware stand to get the bottom mic exactly where I want it consistently and it tightens enough that it never moves throughout the entire set.  The tightening portion of the clamp has a soft felt so there is no scratching or damage to the hardware.  Furthermore the drum riser keeps clean of unnecessary mic stands and clutter as the clamp is very unobtrusive. This same technique could also be expanded to cymbal mics, etc.
The K&M 240/5 clamp is a great versatile mic clamp that for $50 feels like an invaluable tool to have in the workbox.
Find this useful? Take just a moment and give a $1. Thanks!